Autumnal Inspiration For Interior Designers
September 23rd marks the official first day of autumn, which might have you thinking ahead to warmer colour palettes as temperatures start to drop. That's certainly the case for us here at Shape and as cutting-edge designers, we make a point of staying ahead of trends and making innovative design choices that are versatile enough to work throughout the year. If you've got some bold ideas that you aren't quite sure how to achieve, here are some of our top tips for leaning into autumn without leaving yourself stuck in a perpetual pumpkin spice spiral.
Natural Textures
Creating a warm and inviting space throughout the colder months can be as simple as experimenting with your textures. Think foliage, wicker, exposed wood, knits and wools. With that in mind, don't solely focus on your decor when texture is something that interior designers can use to enhance the foundation of their design concepts.
Take The Reflection – a collaborative family home from the minds at both Shape, Fraher & Findlay & Base Interior Design. Our bespoke guest bedroom wardrobes combine warm, natural wood with very primitive textures to completely transform the space. Bringing a sense of the outside to the inside of this property created an autumnal throughline throughout the house.
Resurfacing furniture like this yourself can easily look cheap and unfinished if you don't implement the most effective techniques. When you don't have the tools to achieve the look you have in mind, the Shape London team are more than happy to lend you their skills.
We work with you to help you choose your woods carefully, especially when you're looking at wooden floors or feature walls. One of our most popular woods is Stained Oak as it's light enough for the summer months but introduces texture, warmth and a link to nature that we crave throughout autumn. Don't dwell on those hard-to-make decisions on your own. Take advantage of our expertise and ask us about the right materials for your next project. You can browse a selection of our most widely used materials here.
Farmhouse Features
Another great way to make a connection with the outdoors and one of the most popular trends among interior designers right now is to capitalise on farmhouse characteristics within your design. Things like exposed beams, wooden floors, reclaimed wood, exposed brickwork and slate are all quintessential features of a farmhouse concept and ones that our clients can't get enough of in recent years.
A great example of this is our work on The Vaulted Apartment, where we drew heavy inspiration from the existing wooden beams and floors before introducing bespoke joinery that not only met the needs of the client but also added to the charm of the farmhouse features. In the end, the juxtaposition of old and new, as well as contemporary and traditional really brought the project to life.
Bespoke joinery could be the key that ties your entire project together, so don't allow your design to be limited by your capabilities. Our team has spent years developing elite joinery skills that help us to take each project to new heights and your project could be next.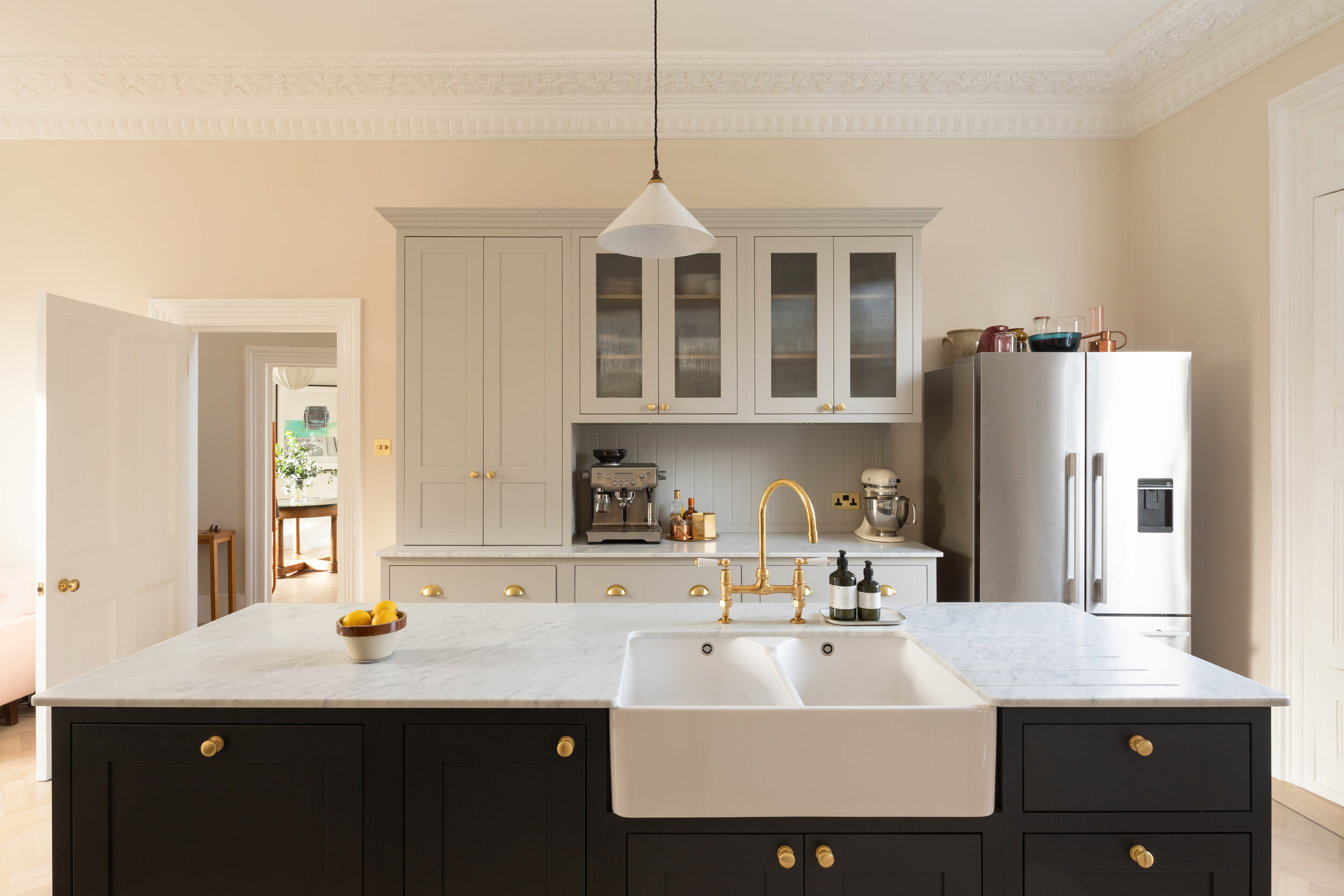 Bespoke Joinery
As designers and makers, it's our job to create something truly unique that the client will love based on their desires and specifications. At Shape, we love to maximise the potential of any space by finding new ways to create inspired pieces of practical woodwork. Our bespoke joinery solutions allow you to make spaces work for your clients and their needs.
The Lotus Kitchen was designed to marry a functional space with a way to showcase a love for greenery. Through the design and manufacture of a tailor-made shelving unit, we were able to, again, bring the outside inside, which is ideal when the colder weather makes it hard to enjoy the great outdoors.
Sticking with this vision, warm earthy neutrals are usually a go-to for interior designers when the leaves start to fall. Mimic the changes that you see outside by layering complementary shades for a look that not only feels very autumnal but also very chic and modern. For a pop of colour, think about classic jewel tones for an added sense of luxury and comfort.
Architect-Led Interior Designers
For further inspiration, be sure to check out our Instagram and Pinterest profiles. Alternatively, they say that two minds are better than one and we love nothing more than working with interior designers on exciting new projects.
We work on a wide range of residential and commercial projects across a range of scales, so efficient and effective costing is something that comes naturally to us. Collaborate with us and take advantage of an immensely passionate team of creatives and our state-of-the-art South East London workshop where we design, fabricate and install everything in-house. We've got the know-how to guide you towards the right processes and techniques that will help you to realise your vision.
Get in touch here or call or email us using the details below. We look forward to working with you!
Telephone: 020 7252 1560
Email: mail@shapelondon.co