Integrating Smart Home Functionality Into Joinery
In 2022, what used to look like 'the home of the future' is becoming an increasingly modern reality with each passing day. Technology is perpetually advancing, with things like computer speed and power doubling every 2 years or so and the AI industry growing by more than 15% year on year. What we find, as designers of luxury interiors and bespoke joinery, is that we're having to tailor our projects more and more to be able to integrate smart home functionality and this doesn't come without its challenges.
The Design Challenges That Come With A Smart Home
The first and probably most obvious problem that most smart home inhabitants come across is that most devices are universal in their aesthetic. Your only options are usually black, white or grey plastic models, which may work well in some homes but not so well in others. While some brands are now trying to be more thoughtful with their designs, we often find that our clients look to us to find a way to customise their tech so that it aligns with the style of their home. They want something that blends seamlessly with its surroundings rather than sticking out like a sore thumb.
With that in mind, accessibility is something that we have to ensure we don't compromise when coming up with creative solutions to hide, disguise or embellish devices. We can't simply encase something (including plug sockets and switches) or fit it behind fixed joinery in case users need to access these fixtures. Even simple routers need to be reset or replaced sometimes.
The other side of this coin is connectivity. While smart home technology improves all the time, a weak signal is always a possibility and can render some features useless. Blocking signals through the interior design choices we make would be a major flaw, which is why we're always thinking about things like remote controls, device-to-device communication and the smart home network as a whole.
Enhancing A Smart Home With Bespoke Joinery
The key to enhancing a smart home is to make clever choices with bespoke joinery that are based on client expectations, budgets and the need for tech integration and functionality.
Take The Ladder House, where contemporary style meets period property. To conceal the TV, we created a floating media unit and accented the entire space with LED lighting. This theme was carried throughout the house, with further floating storage units and LED lighting to create a uniform design that showcased the best of both of these colliding aesthetics. TVs are often a pain point for many clients, with the Shape London team continuously coming up with new ways to feature or conceal them, such as through a hidden panel that can rise and fall at the touch of a button.
Sometimes, entire spaces need a dedicated design feature to comfortably and effortlessly store a wide range of gadgets for easy access and use. The media space at The Pier House, another Shape London project, boasts custom-built storage that conceals and stores devices, toys and games while also offering somewhere to display sentimental tokens. The intention was to build clutter-free cabinets with concealed cable management so that balls of tangled wires were a thing of the past.
Finally, lighting is another key aspect of smart home design that changes with each new project. One of our favourite examples of this and how we managed to integrate it into our plans is The Reflection, where we decked out a cinema room with a statement starry night light installation on the ceiling. This is an exciting and atmospheric family space, where bespoke lighting combined with upholstered wall panels creates a sense of luxury and wonder. These panels not only look great, they also conceal speakers, subwoofers and aid in the acoustics of the room.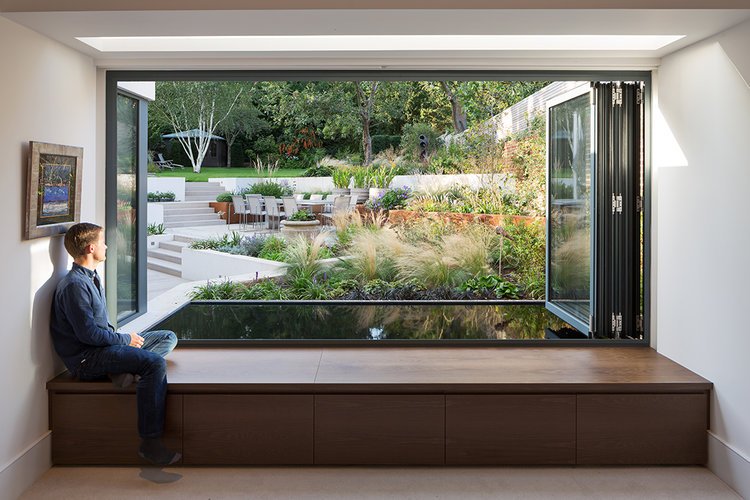 Collaborate With Shape London
If smart home functionality has left you at an impasse with your latest project, allow our experts to cast a fresh set of eyes on your plans. Our creativity knows no bounds and we love to collaborate with other designers to create truly unique spaces. We have no doubt that we would be able to come up with unique solutions to even the most complex tech integration roadblocks.
Get in touch here or contact us using the details below. We look forward to working with you!
Telephone: 020 7252 1560
Email: mail@shapelondon.co