The Designer's Guidebook Part Five:
Joinery for Children.
---
With many of us working from home, we are having to adapt to sharing our workspace with the whole family, bringing to the forefront of our minds how design can help make our shared spaces suitable for every member of the family. When we design joinery, it is often the adults making the decisions, however we think it is important not to overlook the (sometimes) most demanding members of the family – our children! Many of the Shape team have young families themselves, and so inherently understand the importance of designing for children. Read on for our top tips on creating incredible spaces for children, as well as some of our favourite examples of Joinery for Children that we look to for inspiration.
We love this cost effective storage solution that utilises Ply and simple detailing to maximise space in a small bedroom. The clever use of off-the-shelf components (such as the industrial pipe) keeps costs down, whilst powder coating them in bright colours adds a more luxurious yet youthful aesthetic. Not only does it provide plenty of space for toys, the playful cut-outs provide dens and snugs for exploring!
Source: Contemporist Design: HAO Design Photography: Hey!Cheese Photography
When designing for children we take into account some key aspects in both how they use the space, and how we want the space to help them.
Firstly, some practical considerations include reconfiguring the standard dimensions that we use. Table heights and door handles need to be easily accessible for the intended user, and this must be considered when designing for children.
This amazing bunk bed goes above and beyond in considerations for child-use. Again utilising ply and pops of colour, not only does the playful form stimulate imagination, the small steps with built in low-level storage, all account for the joinery's primary user.
Source: Dwell Design: A1 Architects Photography: David Maštálka
Secondly, how the space affects the child. We want to stimulate and aid development in every way that we can. Colour is the first consideration and often clearly denotes what is intentionally designed for children. Younger children love brighter colours, as their eyes are not fully developed yet to appreciate the delicate differences between shades as older children can, thus brightly coloured items are more stimulating and interesting. The colour itself should also be considered, with warm tones such as yellow and orange imparting a sense of comfort and happiness, whilst cooler tones such as blues have a calming effect, which make them an excellent choice for a bedroom environment.
Play is imperative to a child's cognitive development, and it is important to have dedicated spaces that facilitate this to happen. By creating a space solely for play, you are indicating to the child the importance of play, and by removing other distractions from the space, you are allowing more room for creativity to flourish, as well as ensuring you and your child can have quality time together when in that space.
Lastly, clever design should always maximise the functionality of whatever space it inhabits. Often this means that it should take on multiple roles to suit the various needs of both children and the parents. We love creating joinery that functions well as storage to keep spaces clutter-free, but also injects an element of playfulness into the space for the child to enjoy equally.
This amazing large scale joinery piece creates an indoor-adventure playground for the home's youngest residents. Whilst the beds are tucked into cut-outs creating cosy snugs, the storage and mezzanine level above can easily be a castle one day, pirate ship the next! The designers here used one of our favourite materials, Douglas Fir Ply, which is a robust and cost effective material that has a beautiful grain pattern that injects warmth into the space.
Source: DesignMilk Design: Van Staeyan Interieur Architecten 
This leads into the final consideration; how the design should adapt to how the child decides to use it. Children often create games and play with items and toys in a completely different way to the original intention of the designer. To therefore preempt this, it is important not to pigeon hole their creativity, and instead leave some elements of the design open to interpretation, encouraging the kids to fill in the blanks themselves.
In this Australian new build, MUSK Architecture studio ensured each space invites adventurous play, by scrapping traditional internal configurations in favour of tree-house like fitted joinery, creating playful mezzanine levels throughout. 
Source: Archdaily    Design: MUSK Architecture Studio   Photography: Benjamin Hosking
Case study: The Etch House
In the Etch House, we worked with directors Joe and Lizzie from Fraher and Findlay to create the perfect bespoke pieces for the playroom of their family home. They developed the concept design alongside their two children and let them decide on the feature colours for each floor of the house, and so we were working with a child led "green" brief.
To create the cabinetry, we used Valchromat, which was a natural choice for this project, as not only does it come in a variety of fun colours, it's through coloured, which allows for ultimate design flexibility in creating cuts & perforations through the panels. It's also incredibly robust, a key consideration when selecting materials for children's joinery. A street scene was created in the door fronts by cutting windows & doors using our CNC machine, adding whimsy and a secondary level of play to the overall space, by allowing the joinery to not only store toys, but become a toy in and of itself.
The Cheshire House is one of the most playful projects we have ever completed, with the whole property filled with unique bespoke joinery pieces, many of them catered to the youngest members of the family. On the ground floor, we created a playroom/homework space with plenty of storage, along with fold-out desks integrated into the wall cabinetry, and large blackboard walls to encourage creativity & spontaneity.
On the upper floors, bold colours brighten up the bedroom, with the floating shelving unit offering both concealed and displayed storage. We used laminated birch plywood, which is incredibly robust and can be found in a huge array of colours, allowing us to create a unique and playful storage solution. To the right of this unit, we installed a miniature door (Alice in Wonderland inspired) that connects the sibling's rooms. Perhaps the most unique feature here is the children's dressing room, a truly whimsical space which would confuse any visitor! The secret entrance to the space is hidden behind a movable bookcase wall in the mezzanine level of the library, then once inside, the many doors conceal entrances to the various bedrooms, as well as dressing tables with automated LED lights (no need to remember to switch them off!), and plenty of wardrobe and storage space. Perfect for hide and seek!
Material case study: Perfect Touch
When designing spaces that will be frequently used by children, durability in both the materials and detailing is always at the forefront of our minds. A suitable material choice is one of the most fundamental considerations within the design of the space, and alongside a plywood is one of our favourites is Primeboard, a durable laminate with a really luxurious, matt feel (not sponsored we promise!). It also comes in a range of beautiful muted colours, (in particular we love the Denim Blue).
We used this for the fitted children's wardrobes in both the Courtyard House and the Artist's House. In the Courtyard House, we accented the blue with Navarra Ash Laminate exposed shelving, which is equally durable. We finished these playful wardrobes with Muuto Dots having dual functionality as both fun handles and hooks.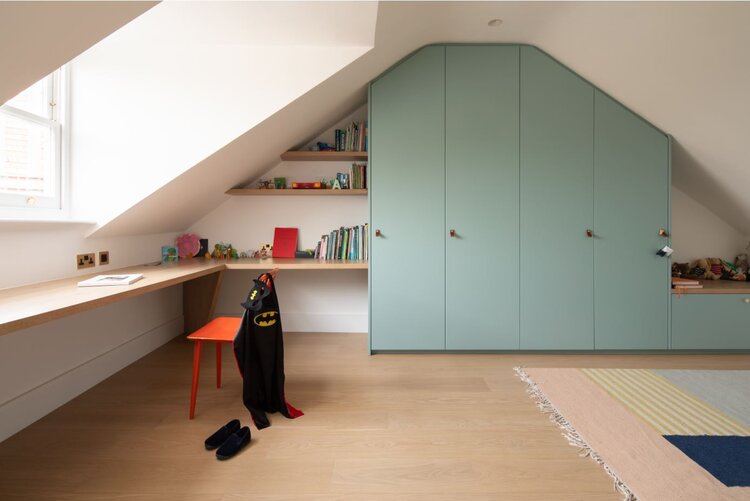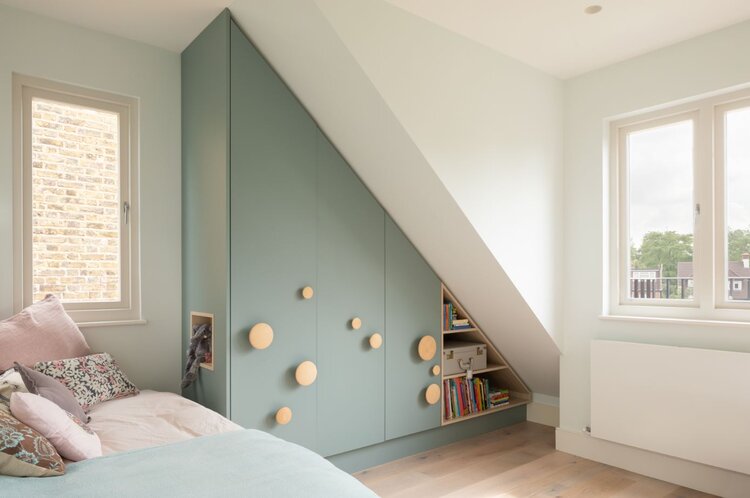 We love designing for children, as they can be our most discerning clients, as well as offering the opportunity to get extra creative with colour, form & functionality. The joinery should enhance not only the usability of the space, but also facilitate play in a safe and stimulating environment.
Have you seen any outstanding examples of design for children? Send it to us via our socials below, or tag us @shapelondon.
Seen something you liked? Working on your own space for children and need advice? Want to discuss this article or your own project further? Get in touch with us via the button below, drop us a message on any of our social media, or give us a call or message on 02072521560 or mail@shapelondon.co. We would love to hear from you!
---