The Designer's Guidebook Part Seven:
How to Set Out your Kitchen.
---
At Shape, we probably work on kitchens more than any other room of the house, so over the years we have built up a wealth of knowledge based on each unique experience of creating our client's their dream kitchen. Below are some of our most tried and tested techniques and advice for not only what to include in the perfect kitchen, but also how to lay them out. This is an incredibly important consideration as if the kitchen does not have the right flow and functionality, it can become a chore, instead of a joy, to use. Our motto is 'we create beautiful, functional joinery' and we hope that our tips below will help you create your own culinary haven that lives up to these standards.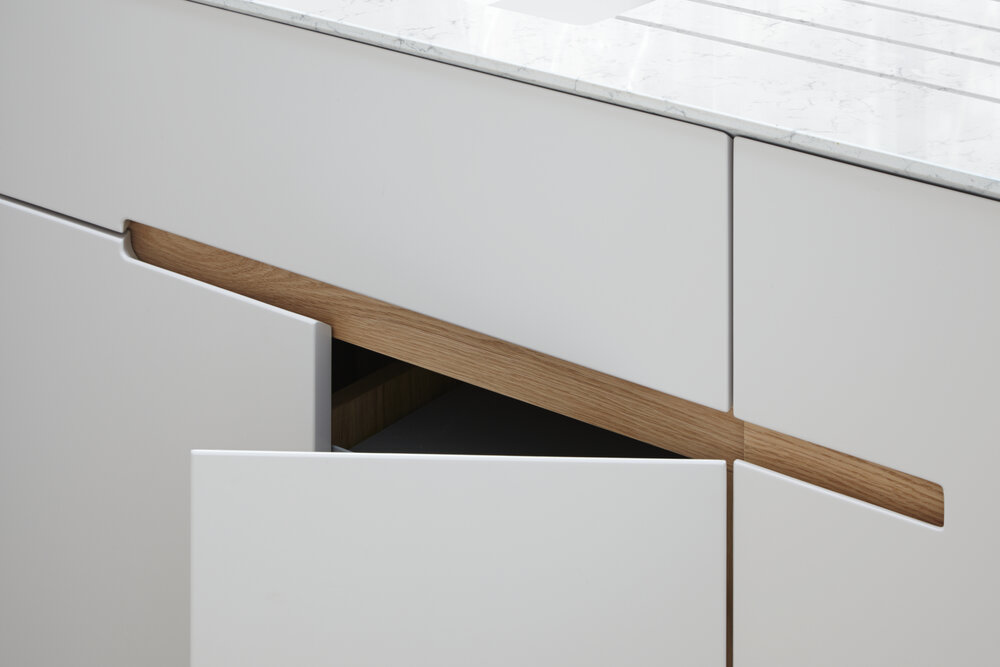 Handle detail in
The Lambeth Marsh
kitchen.
Key Considerations
The key aspect of a bespoke kitchen is not how many luxury materials and appliances you can cram into a space, instead it is how you can make the space that you have work best for you. The most important thing to consider then is the space you are working with. If you are working with a smaller space, a large statement island probably won't be the best option. On the other hand, if you are looking to create zones in an open plan kitchen/dining room, an island can create an additional space for entertaining, cooking or dining. Wall lengths, window openings and door positions also need to be considered, as these can define whether you will be able to create a long run of cabinetry, or should implement an L-shaped kitchen, or whether you can create a long continuous run forming a U-shape with a bar.
The best place to start is with a rough floor plan of the space you are working with, and marking out key elements of the room; windows, boilers, radiators, where you might like an island or bar etc. From there you can create a list of every element you want to include – make sure to list all the appliances that you will need to accommodate,  such as coffee machines and toasters. We have added some elements of a kitchen that you might like to consider below, then you can begin to arrange all these elements within your space to create a kitchen with a perfect flow.
Example floorplan of The Lunar Kitchen.
What to Include
Entertaining Space – Would you like to include an entertaining space within the design of the kitchen. This is often and best created with the inclusion of an island, where food preparation can be part of a show and the chef is not cut off from their guests. Alternatively, an island with a bar or seating area is a great option if you want guests to feel comfortable within the kitchen, without having to make the cooking take centre stage.
Range or Wall-mounted Oven – Whilst a range oven can be an excellent option depending on the desired aesthetic of the space, a wall mounted oven can offer more flexibility in terms of layout, and also be a better choice for a more compact space.
Feature or Concealed Extractor – Whilst a concealed extractor is a popular choice, depending on the location of the hob, a feature extractor can add a modern or industrial aesthetic to a kitchen, and enhance the overall space.
Integrated or Standalone Fridge – This again comes down to your preferred aesthetic, however depending on which you decide, you will have to consider how it fits within the space. A further consideration is whether to include a drinks fridge or wine cooler, which can be a great addition that makes a kitchen a joy to use. If you are unsure of how much use a dedicated drinks fridge might get, a secondary small, under-counter fridge can be a great option, as it offers storage for bottles, and also an overflow space for when your everyday fridge gets a bit too busy!
Wine Rack – Another lovely luxury that you can add to your kitchen is a bespoke wine rack. These can be as big or small as you need, depending on the space you are working with.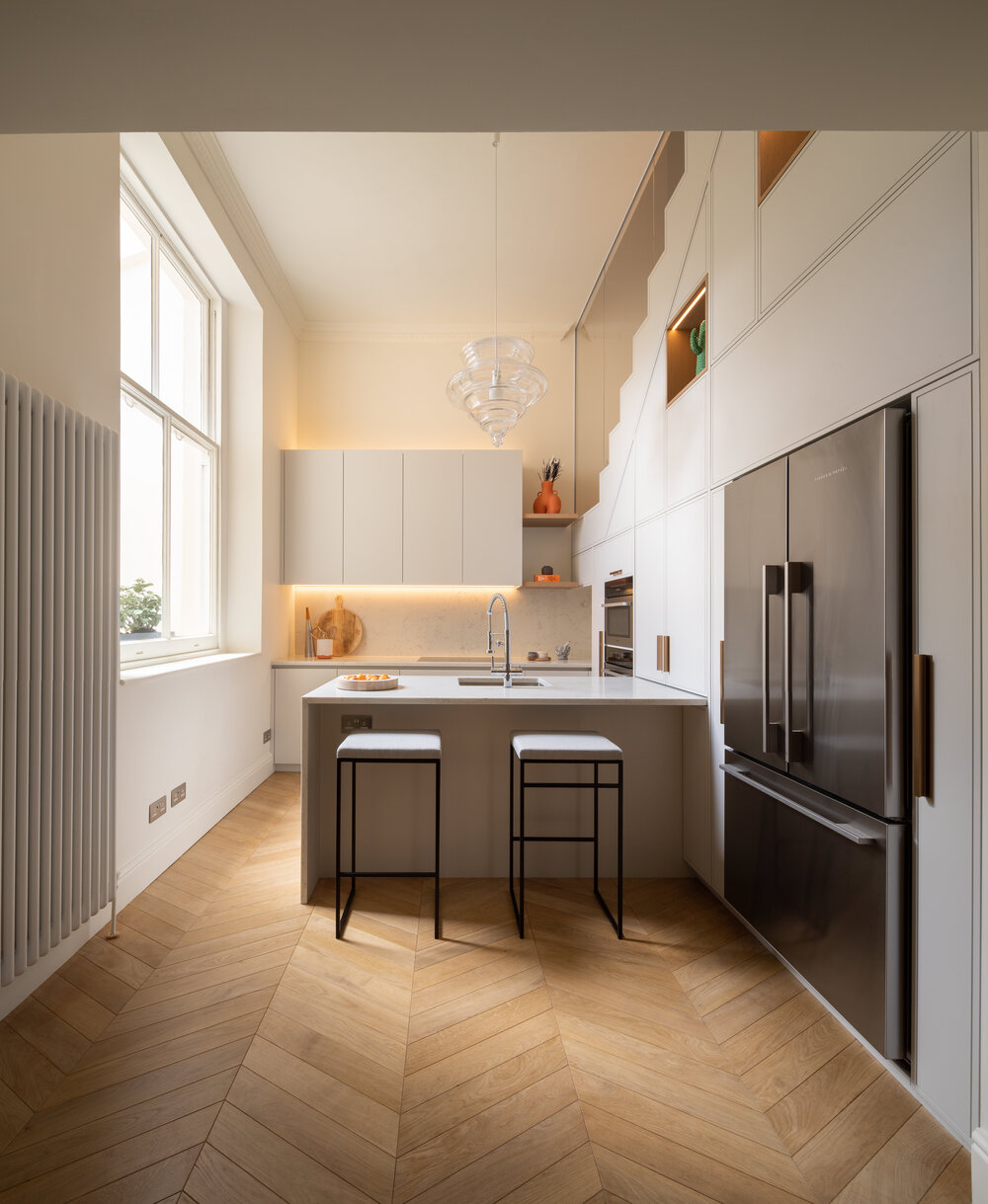 Considered space for an American-style fridge-freezer and slim, hidden wine rack in The Lunar Kitchen.
Cookbook Storage – This can be storage for cookbooks or other items that you might like to keep on display in the kitchen area. This is often overlooked, however it can be a lovely feature if consideration for shelving is included during the design phase.
Bar/Drinks Storage – Separate from the drinks fridge, a bar counter for bottles, glasses and drinks preparation is a great addition to a kitchen to transform it into an entertainment space. We often include these behind larder doors, and love to add a statement stone worktop and accent lighting to create that wow-factor. For added ease, a drawer dishwasher can be added below for quick cleaning of glassware.
Larder Cabinet – If you are looking for more of a family-orientated space rather than that for entertainment (although why not both?!) then consider whether you will need additional pantry storage. If you have the space, this could be included in a utility, otherwise we find tall cabinets with adjustable shelves or pull-out drawers to be the best and most efficient storage choice.
Coffee/Drinks Station – Similar to a bar, a larder unit with counterspace is a great choice to keep all your appliances easily accessible, such as mixers or coffee machines. Integrating plug sockets into the back of this cabinet means you will never have to move these items, and can have them readily available whenever you might need them!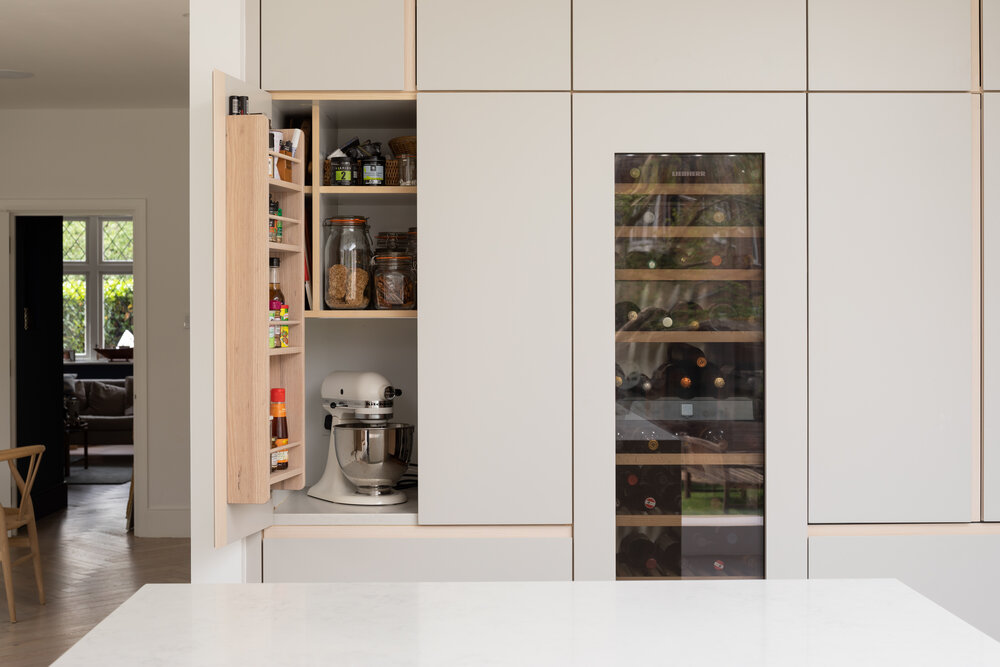 Open Shelves or High-Level Cabinets – Whilst this is mainly an aesthetic choice, this should still be considered; open shelving can make a space seem more open and airy, but can gather dust; enclosed cabinets will have a greater cost implication, but an conceal clutter and offer more storage space. Decide which you would prefer during the early phases of kitchen design, and factor in where you will store all the items you need to. A healthy mix of both can be a great choice, both for design and practicalities, if you can't decide!
Boiling Water Tap – These are a great time saver, and as they negate the need for a kettle, they also can save you space!
Lighting – You should consider whether you plan to integrate accent lighting into your new kitchen joinery or if you prefer statement pendant lighting (or both!). If you like statement lighting, you will need to plan early on whether you will need any extra structural support in the ceilings, and advise your architect or electrician so they can place suitable allowances for cables.
Additional Details – Whilst they might not have a huge impact on the layout of the kitchen, consider integrating additional details into your design such as cutlery inserts, integrated knife blocks and integrated chopping boards. Not only are they beautiful and functional, considering these within the design is most often the most efficient use of space!
Custom pull-out cooking station in The Signal House.
Layout Considerations
Whilst the goal of finding the best layout of your kitchen is to ensure that you can fit all the elements that you have decided to include in, there are some guidelines that help to improve the flow and functionality of a kitchen that are good to consider:
'The Triangle'
This is the relationship that is formed between the sink, hob/oven and fridge, as these are the spaces where you will spend the most time.

The ideal layout of these forms a triangle, as this maximises accessibility and flow when cooking, and minimises your step count.

They shouldn't be too far away from each other (no more than a few steps) for efficiency when preparing a meal.
Reduce foot traffic through the food preparation zone 
Keep bookbags, shoes and coats away from the kitchen by having a dedication coat rack near an entrance.

Place storage of dinnerware away from the cooking zones so the table can be laid without interrupting the chef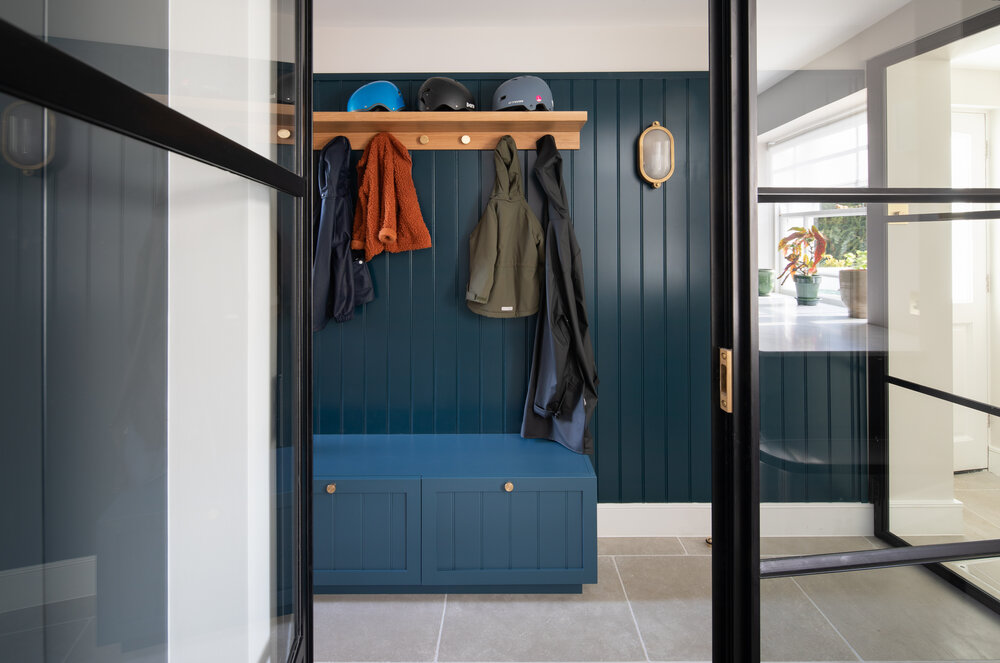 Compact 'cloakroom' in the hallway of The Artist's House.
The Island
Ensure there is enough space for two people to comfortably pass behind the island.

Ensure the drawers and cupboard door do not clash with the opposite run of cabinetry when both are open.

If placing a hob on the island, remember this will likely incur an uplift in cost in comparison to locating it on an exterior wall, as you will have to install a downdraft or ceiling/ suspended extractor, and reroute the exhaust on a diverted path to reach the outside. If you are having building work done this will need to be considered early in the process so the required ducting can be considered and included.

The island creates a great entertaining space, and often stops people wandering into the chefs area of work. By dividing the bar, either with varying heights or materials, you can further 'zone' it into a food prep area and eating/drinking space.
The Sink
Whilst all the elements of a kitchen are important, you seem to spend the most time at the sink. Placing this in front of a window or on an island makes using it more enjoyable. This also has the added benefit of removing the consideration of an appropriate height for cabinetry above the sink, as if this is too low you will feel claustrophobic when using this space (and might bang your head!)
'The Triangle' as shown in The Ladder Kitchen (integrated fridge to the right), also showing the perfect island for entertaining guests.
How you use the space
Considerations as to what works for your family should be taken into account.

If you like to unstack the dishwasher straight into the cupboard, try to place the storage for glassware and dinnerware opposite the dishwasher.

If you have a lot of heavy pots and pans, make sure the storage for these is right next to the hob or oven, so you don't have to carry them across the kitchen.

Similarly, store herbs, spices and cooking oils within easy reaching distance of the stove.

If you chop a lot, have the worktop where you will do most of the chopping located directly above an integrated bin, so peelings can be swept straight into it. For added ease, integrate a chopping board and a grommet that leads directly to the bin straight into the worktop!

Although most people do this already, cleaning supplies are best kept near the sink for easy access. Adding a drawer instead of the standard cupboard can help reach those items that always get pushed to the back.
'The Triangle' and ceiling extractor above island-mounted hob, open shelving, compact drinks cabinet and island seating as shown in The Sapphire Kitchen.
Whilst every kitchen should be customised to suit you and your family's needs and lifestyle, we hope the above can give you a good starting point of various elements to consider when planning the design of your new kitchen. Remember, although we have suggested using the triangle as a starting point, do not feel that you have to stick to this. For many kitchens this will not work and the most important thing to consider is how you will use the space and what will work for you.
If you would like to see more inspiration from some kitchens we have worked on, head over to the COOK section of our website.
---
If you have any questions or would like advice on layouts or joinery, or would like to discuss your project with us, drop us an email on mail@shapelondon.co, give us a call on 02072521560, or fill in our new enquiry form via the button below.
If you have any questions on what we discussed here, or would like to get in touch with us to discuss your own bespoke project, get in touch with us via the button below. Seen an amazing kitchen design that you would like to share with us? Tag us via our socials below!
---