The Designer's Guidebook Part Six:
Integrating Technology into Joinery.
---
The recent pandemic that has permeated each aspect of everyday life has got us thinking about the spaces we live and work in. For many of us, our homes have become our offices and the way we interact with public spaces has dramatically changed. This got us thinking about how the integration of technology can help us in our daily lives, from how our homes can be adaptable and aid efficiency in everyday tasks, to how shared spaces might have to change in a post-pandemic world.
Already, designers across the country have begun to respond to people's new-found (and well placed) germophobia, by means of touchless sanitising stations popping up in high traffic areas. The brightest design minds in the world are forecasting what this 'trend' will look like in the coming years, with the practicalities of the ubiquitous open plan office space being re-thought by the Design Research Unit, and touchless lifts and automated temperature scanning being proposed by the likes of Gensler.
Even at home, touchless tech solutions are looking more appealing than ever, and the adaptable living space is at the forefront of our minds as we are questioning what the future of 'working from home' will look like. Below we have detailed some of our favourite tech solutions that we integrate into our joinery, as well as looking at dot Architects' Baitasi House of the Future as the ultimate adaptable living space created by technology-enabled joinery.
Case Study: Baitasi House of the Future
Videography via Dezeen
dot Architects created this 'house of the future' for their client, an innovative tech company, on a tiny plot of land in Hutong, Beijing. Although the unassuming exterior does not give much away, the tiny interior layout is cleverly designed to adapt to a variety of uses throughout the day; transforming from a 3 bed house, to a living space, to a shared office space, to hosting a dinner party over the course of one day.
Source: ArchDaily Photography: Wu Qingshan
Other elements of these units are operated by the home's smart control centre, which slides the partitions away to the sides at the touch of a button. This hub not only controls the movement of the adaptable joinery, but also the lighting, blinds, security system and the home appliances. Applied in such a humble setting, the architects have shown how this advanced technology can be sensitively applied in every home setting.
Our Experience
Recently, more and more of the projects that we have worked on have incorporated systems that enable them to be considered 'smart homes'. Be that only partially, such as linking an Amazon Alexa to the lights we install as part of a dressing room, or ensuring that our joinery is compatible with a whole house system, which not only controls the lighting, but also the blinds, energy use, audio systems, security, and even the temperature of the pool (such as this all-in-one smart home system). We now all have to consider how technology can be seamlessly integrated into both new and existing interiors.
Lighting controlled by Amazon Alexa in the
Lemon Tree Bedroom
.
Design: Shape   Photography: Adam Scott Images
The Kitchen
The kitchen is always going to be the place which springs to mind when discussing technology in our homes, and we like to keep our ears to the ground for the best new lines being developed and the most interesting emerging tech on the market. Choosing the right appliances can make or break the joy and practicality of a new kitchen, so fully informing our clients on the options is of paramount importance.
To start, a boiling water tap (such as this stylish one from Quooker) is one of those things you won't know how you lived without it once you have tried it. We even recently installed one in our office – a godsend given how much tea we get through. The purpose of these appliances is in the name – boiling water on tap, no more waiting for the kettle. They also have other benefits, such as filtered, sparkling and chilled water on hand, matching soap dispensers and limescale control built in.
A Quooker Fusion tap in The Ladder Kitchen
Design: Shape Project Architects: Fraher and Findlay Photography: Adam Scott
A wine fridge is another appliance that we always like to discuss as part of a new fit-out, as they can be that little added luxury that makes a new kitchen feel so special. We love the style of this 36 bottle fridge from Kitchenaid, or this slender 8 bottle cooler is a great option for a kitchen that is tight on space! We also ensure that they are always integrated seamlessly into the joinery, as we did in the kitchen of the Courtyard House (shown below).
Some other high-tech appliances we love include the latest self-cleaning oven from Gagganau (which has a whole host of other features to check out), and LG's new oven which allows you to tap twice on the glass, illuminating the oven's contents so you can check on cooking time without opening the door, complementing their InstaView fridge (which now makes those fancy balls of ice that you usually see served with a good scotch). Lastly, for the health conscious amongst us, is this vertical edible garden from Natufia, which comes stocked with plantable pods, which are then autonomously watered by the hybrid system that controls the internal humidity, temperature and ph automatically, along with playing music to encourage optimal plant growth. The whole system can be monitored via a smartphone app that notifies you when your plants are ready to be picked!
Integrated wine fridge in the kitchen of The Courtyard House
Design: Shape Project Architects: Fraher and Findlay Photography: Adam Scott
The Rest of the House
A smart piece of technology that we are integrating more and more into our joinery is the wireless charging pad. As more of our devices are switching to this mode of charging, this is a really smart way of future-proofing your new joinery. We install the pad as part of the worktop, either on a kitchen counter or beside-table – wherever would be convenient for our client. We can conceal this beneath the material we make the top from, if it is for example a solid surface or timber top, as we can rout these materials thin enough to ensure maximum functionality when in use.
Another nice feature that we frequently incorporate into our joinery is a concealed television, such as the one we hid behind the wall panelling in The Cheshire House. We love being able to blend these details so that the technology is completely in harmony with the joinery and the space at large, and smooth automated mechanisms ensure a seamless reveal when needed.
Sliding TV mechanism hidden behind the panelling in the master bedroom of The Cheshire House.
Design: Shape Videography: Adam Scott
We spoke briefly already about lighting as part of a smart home, however this is an element of joinery that we detail so frequently we cannot understate its importance. We often use recessed LED lighting in the shelves of the pieces, and often add these to PIR systems that control the lighting to come on automatically as you enter a room or open a cupboard door. These systems are also available with remote controls or smartphone app integrations, which allow you to control the brightness and colour of the light (and therefore atmosphere) of the room. These are really nice touches to add to a dressing room or other luxurious spaces. We also incorporate these PIR sensors elsewhere, such as within the timber panelling on the ceiling of the Decca Radar Station, so that when you enter the front door, low level floor lights are triggered to illuminate the whole space.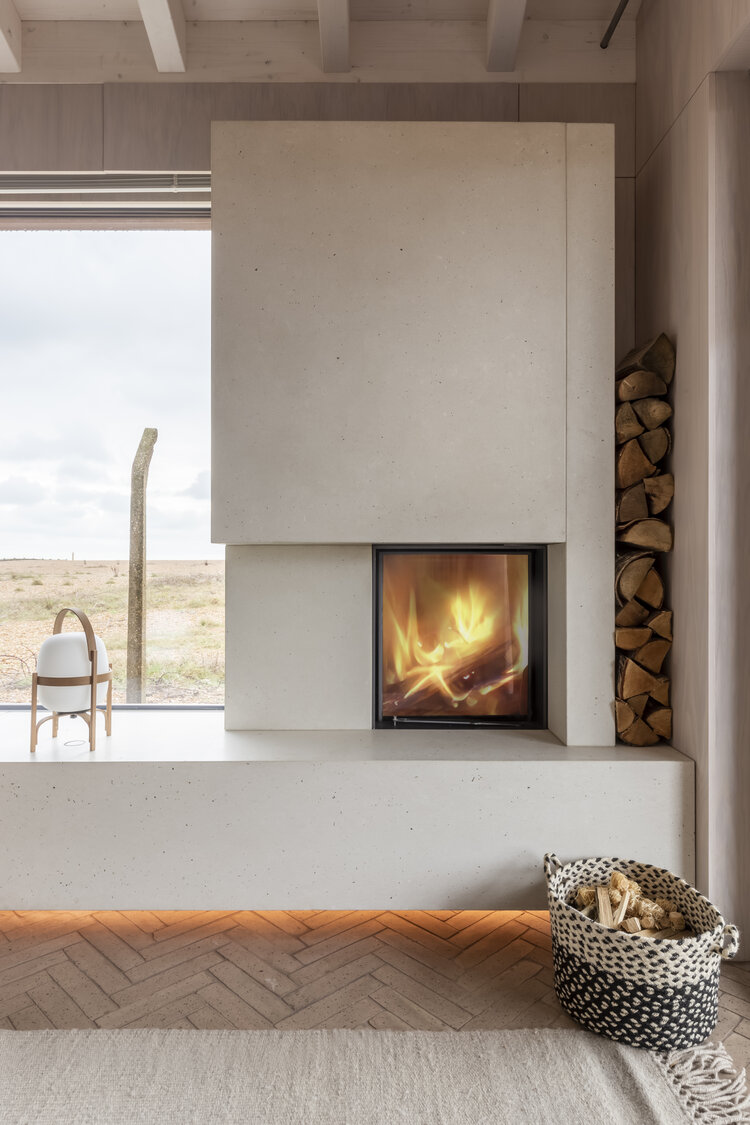 Low level lighting controlled by PIR sensors concealed in the ceilings of the
Decca Radar Station
.
Project Architects: Johnson Naylor Photography: Billy Bolton
To wrap up, we finish with a project that we are currently in the early stages of designing, which incorporates large glass wardrobe doors as part of a refined and contemporary master suite. Whilst the large panes offer a great opportunity to display a perfectly curated wardrobe, having the option to conceal these if necessary is a nice addition. Switchable Smart Glass enables us to offer this as an option within our joinery, giving you two looks for your space, depending on how tidy you are feeling! This glass is becoming more popular in company meeting rooms, however with intelligent application there is certainly room for it within our homes as well. This is demonstrated excellently by Matt Architecture in their Number 23 project, which features a large statement window at the front of the property, which could be a privacy concern for the occupants were it not for the successful application of switchable glass.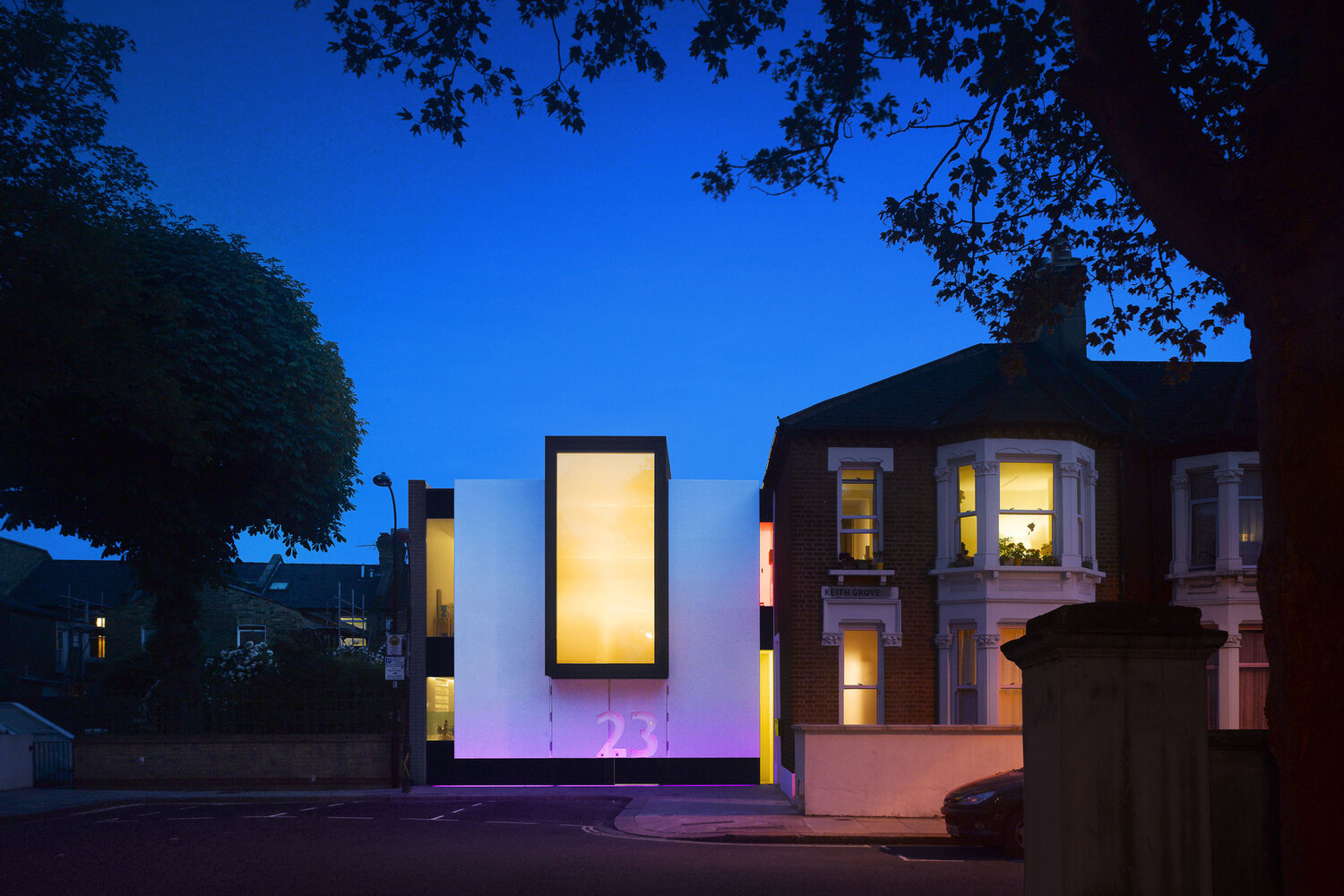 Project Architects: Matt Architecture Photography: Will Pryce
The Future
Looking towards the future of technology integration in our homes we cannot help imagining how the current pandemic will shape the upcoming trends. With video conferencing suddenly becoming the 'new normal' of meetings, we believe that more and more of us will want video and audio capabilities built into whole rooms of our houses, instead of being confined to a laptop screen.
New products on the market such as Facebook's Portal are tapping into this desire for more natural communication whilst on a video call, however there is currently no larger scale all-in-one system (that we know of) that can elegantly combine all audio-visual requirements in a way that is suitable for professional use. Speaking to Ideaworks, experts in integrated tech and smart homes, they mentioned how more and more clients are expecting the ease of video conferencing on a laptop integrated into a whole room. These projects however, present a whole host of challenges in terms of functionality, including unwanted feedback, echos, and issues with lighting.
The other challenge is although some systems, such as the Creston HomeTime, can function well in the right space, they are often not items of tech that you want to have on display. Ideaworks' solution for these challenges is ensuring that these systems are considered at the earliest possible stage of a design project, and integrated seamlessly into joinery that maximises its functionality and conceals the hardware.
Already, we have begun designing acoustic panelling that allows the room to become an effective home boardroom and reduces many of the acoustic and feedback challenges previously mentioned, whilst complementing the aesthetic of the space. Moving forward, as we design more of these home video conferencing rooms, we will begin to incorporate flattering and practical front facing lighting for video chat into our joinery.For us, incorporating these, and any other new technologies that will present themselves in the coming years, into our joinery is an exciting and dynamic challenge.
---
If you have come across any amazing new appliances or technologies that you think we should know about, let us know via our socials below. If you have any questions or would like advice on appliances or joinery, or would like to discuss your project with us, drop us an email on mail@shapelondon.co, give us a call on 02072521560, or fill in our new enquiry form via the button below.
Special thanks to Ideaworks for their expertise and advice on this topic, be sure to head over to their website to check out their amazing work with tech integration and smart homes!
---