Transforming Small Spaces With Bespoke Joinery
In 2022, space is a luxury that is often hard to come by. At a time when the financial landscape is uncertain and everyone is making an effort to cut back costs, many people are downsizing while others are looking for ideas to make the most of small spaces. Size isn't everything and bespoke joinery isn't solely reserved for large-scale design projects. Custom design features, such as those created by our skilled team, can completely transform rooms of all sizes.
Ideas For Small Spaces
The enthusiastic Shape London team recently had the pleasure of working on a smaller project that we're fondly calling the 'Hidden House' and we're thrilled to be able to offer a glimpse at the work we produced. Our creatives transformed a 58sqm 1-bedroom apartment into a more comfortable, luxury 2-bedroom apartment. It was a real labour of love, but the real challenge was maintaining the feeling of space and comfort while managing the addition of an extra bedroom.
One way to overcome situations like this, where there's a need for further sleeping capacity, is to build a multifunctional space. For the Hidden House, we created a fold-away bed that allowed for the quick and easy transformation of the room. In mere seconds, the bed neatly tucks away within a bespoke cabinet for a sleek and seamless finish. From there, the room can be used in countless ways, from drying and ironing laundry to somewhere for the kids to play. This particular example doubles as a home office, a yoga studio and a gym!
Something less obvious about the use of custom joinery in small spaces is that it can make them feel a lot more spacious than they really are. For this project, you'll notice that we've added a lot of light European Oak panelling throughout the apartment. Using lighter woods, like birch and oak, and similar materials in this way makes the entire atmosphere feel lighter and brighter, whilst adding a warmth that you wouldn't traditionally get with a plastered and painted finish. Clever ideas like these can trick the brain into thinking that small spaces are much larger, as there's nothing worse than the feeling of confinement. It's also a great way to conceal much needed storage, which helps with the overall effect of spaciousness.
Live Smart
Technology is a huge part of the way we live in 2022. Every gadget needs its place, which can be difficult when storage and surfaces are limited. Converting to a smart home comes with its fair share of obstacles, but none that are big enough to block our team of creatives. We recently integrated a TV lift from Future Automation within a wall of custom cabinetry, enabling our client to conceal their wall-mounted TV behind traditional shaker panelling. The outcome is a very stylish storage solution, with access at the touch of a button.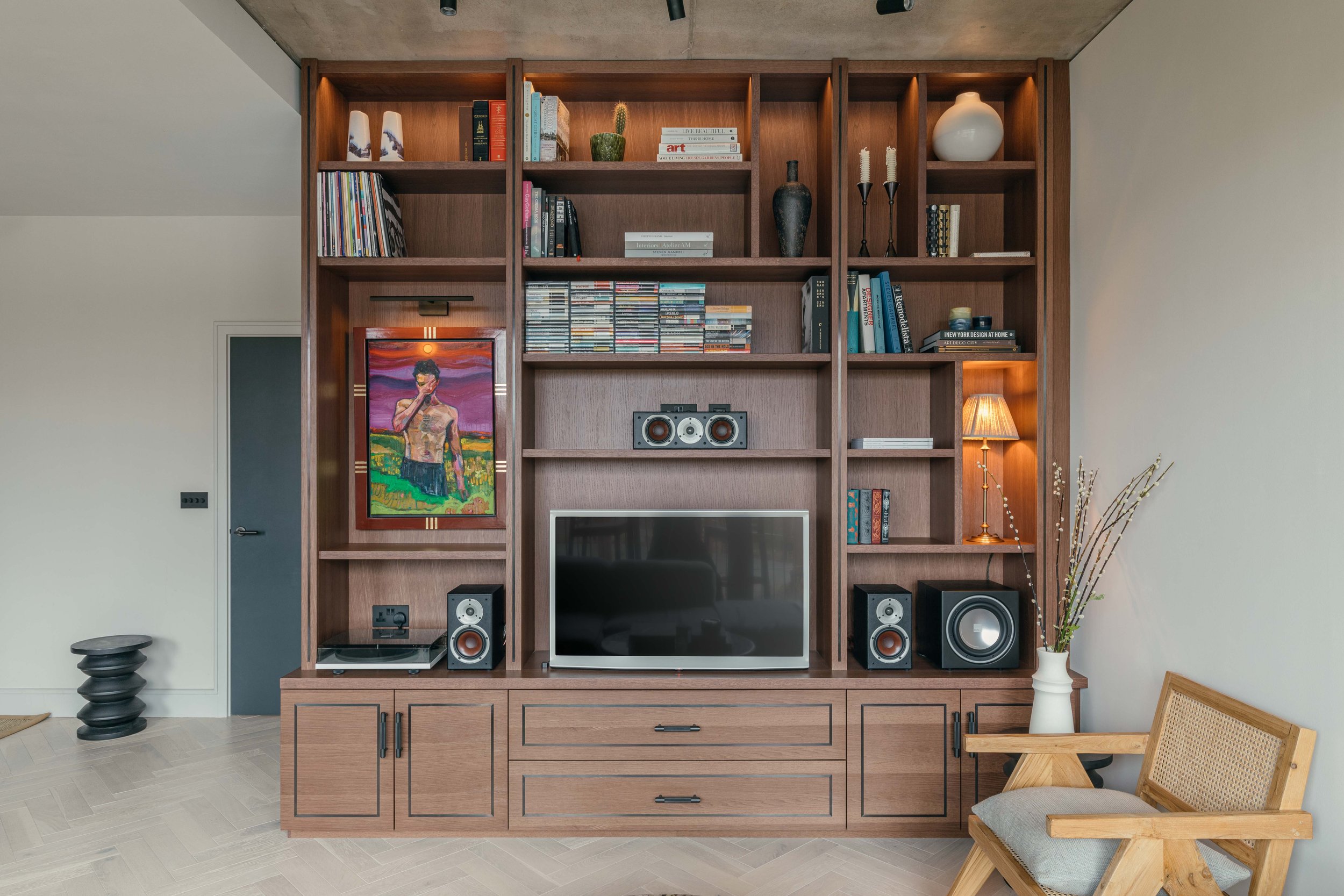 We love nothing more than putting our heads together to come up with innovative ideas to overcome the constraints of small spaces, but sometimes the most effective solution is to stick to what you know. At Shape, we're architect led and so truly understand how to make the best use of spaces, not only from a storage point of view but also in terms of daylighting and wellbeing. We're known for full-house or multi-room bespoke fitted joinery solutions, ideal for increasing storage space and concealing those smart features that don't align with your interior design aesthetics. Click here to find out more about our work on The Ladder House and similar smart projects.
Start Your Next Project
Our intelligent design ideas create multifunctional spaces, no matter how big or small. Compact living doesn't have to stifle your creativity or your ambition. You can maximise the potential of small spaces when you work with our creative team at Shape London.
For further design inspiration, be sure to follow us on Instagram, Facebook, Pinterest and Houzz. If you'd like to enlist our help, we'd love to work with you, so get in touch here or contact us using the details below:
Telephone: 020 7252 1560
Email: mail@shapelondon.co