The Designer's Guidebook Part Two
Environmentally Conscious Choices for Architects and Designers.
---
 Here at Shape, we have amassed a wealth of knowledge & experience in all aspects of the design and build process. When it comes to choosing materials for a project, our team of designers, makers, joiners and fitters have an unparalleled collective knowledge about the pros and cons of a wide variety of materials, details and techniques, which we offer to our clients. As a company, we have decided it was time that we shared some of our findings, knowledge and experiences with the wider construction industry, and so here is the next installation in a many-part series, which we hope will help to give you the knowledge to make more environmentally-conscious choices within your next project.
---
Climate Change and the Construction Industry.
Climate change remains the biggest issue facing our global community to date. In light of the Extinction Rebellion protests in London that have been ongoing over the last few weeks, we thought we would address how we here at Shape are tackling and reducing our own impact on the environment. In addition to this, we have outlined some of our favourite materials that can help reduce your project's contribution to climate change.
"Neilsen states that 30% of all waste generated in Europe is debris from construction."
The construction industry is unfortunately not inherently 'green'. We build with materials that do not occur naturally, such as concrete and steel, transport these materials over vast distances, and construct with heavy machinery, with a final result that far too often, uses far more energy than necessary to run. At the end of their lifecycle, the majority of construction materials go to landfill, with 30% of all waste generated in Europe being debris from construction. Whilst initiatives such as Passivhaus are a step in the right direction, builds that adhere to these standards are far too infrequent. Compounding the problem for professionals and consumers alike is the prevalence of greenwashing, where marketing campaigns align a brand with being environmentally-friendly, despite having no grounding to prove this, making it hard to make the right choice when looking for sustainable products & materials.
Money also remains one of the fundamental limitations that prevent companies and consumers from making environmentally-friendly choices in products, materials and manufacturing processes. Until economically viable alternatives are on offer, globally, we will struggle to transition to using these alternatives, despite 66% of global consumers saying that they are willing to pay more for environmentally sustainable products. Whilst the materials outlined below are not necessarily the most cost-effective choices for your project, they do not compromise on style, which makes them a highly desirable addition to any construction or interior project.
---
 A Greener Shape
As a company, Shape has always been environmentally conscientious, however, now more than ever, it is increasingly important to constantly re-examine every aspect of the company to see how we can improve our choices in the materials and methods that we use, to reduce our impact on the environment. Although we are a specialist joinery company, thus working primarily with wood, one of the most environmentally-friendly construction materials, there is always more that can be done. One of our suppliers of timber, James Latham, writes here about their use of sustainably sourced timber, involvement with the WWF and prevalent use of Forest Stewardship Council (FSC) certified sources, which we are proud to use in our own projects here at Shape.
In a bid to reduce waste, we are moving away from plastic packaging and towards sustainable alternatives, for use when we transport our joinery and products to site. The use of corrugated cardboard for wrapping and cardboard edge-protectors eliminates the need for bubble wrap and foam sheeting, and means that all packaging can be recycled. In addition, we are continually considering the lifecycle of our products and materials that we use, in an attempt to move towards a more circular business model. We have offcuts in our workshop that we are reusing for smaller projects and products, and the remainder will soon be going into a chipper to make compacted briquettes to provide heating for the workshop, thus ensuring that every last piece of material has a purpose. For materials that are difficult to recycle, companies like MDF Recovery helps in creating a key cyclical lifecycle to products by recycling MDF and enabling it to be used again. This is the first step in the right direction for us, and we hope other companies are also thinking about ways that they can reduce waste.
---
Ways Companies and Practices can be More Environmentally Friendly
Building on what we are researching and implementing, we thought that we would share some of the schemes, suppliers and techniques that we have found.
Accreditations to look out for when sourcing materials:
FSC – Forest Stewardship Council

PEFC– Programme for the Endorsement of Forest Certification

Rainforest Alliance

Cradle to Cradle certified (bronze, silver or gold level)

BREEAM – Building Research Establishment Environmental Assessment Method

EU Ecolabel
---
Below are some examples of environmentally-conscious materials to consider using in your next project.
Richlite
Richlite is a paper composite that is formed of 65% FSC®-certified paper fibres mixed with phenolic resins, resulting in an eco-friendly alternative to solid surfaces. As it is a man-made material, it comes in a wide variety of colours and finishes, and whilst not the most eco-friendly material on the market, it is an improvement on other solid surface materials, and it is unparalleled in its ability to offer design and aesthetic freedom whilst being composed of recycled content, allowing for applications as counters, cabinetry and panels. View Richlite's sustainability ethos here.
Forescolor
Foresco offers a more environmentally-conscious alternative to MDF. As a through-coloured MDF, it has a range of design applications, such as in panels and cabinetry, whilst also being FSC Certified as standard, and completely non-toxic. It also has the added benefit of being composed without formaldehyde resin that is typically used in MDF, instead using a natural vegetable adhesive found in soy. IDS is currently the sole UK supplier of these boards, which run at roughly the same cost to other through-coloured boards on the market.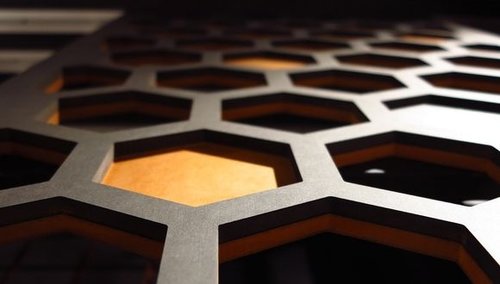 RE-Y-STONE
Re-Y-Stone is a bio-composite board that can be used in place of melamine. It comes in a range of textured finishes, and has internal applications as wall cladding, furniture and cabinetry. It is an environmentally-friendly choice due to being non-petroleum based unlike other plastic composite boards, is non-polluting and free from phenol and formaldehyde. It is made using recycled, FSC certified, post-consumer waste paper mixed with a bio-resin made from sugarcane plant waste, left-over from sugar production. Thinner panels of less than 3mm can be glued to other core materials, whilst thickness over 5mm are self-supporting and have a high bending strength, making them an ideal choice for constructing internal fittings.
Recycled Glass
Recycled glass is a marginally more environmentally-friendly alternative to terrazzo based on the quantity of recycled glass used that could potentially otherwise have ended up in landfill. Vetrazzo states that their glass slabs can be made up of up to 100% recycled materials, and their website also has the nice touch of stating where the glass for each mix was sourced from. This material is ideal for use in worktops, splashbacks and flooring.
Recycled Plastics
Smile Plastics offers a bespoke design solution for every project by using mostly recycled plastics in their commissions, they are upcycling materials that could otherwise have ended up in landfill. They are also preventing new materials being produced by offering a beautiful alternative utilising recycled materials. They offer a 'Classics' range, however their true value comes from their custom solutions, preferring to work to a client's moodboard to create a bespoke slab of material that can be used in a variety of design applications, such as furniture, panels, and countertops. Although we are yet to use Smile Plastics, we would love to use this product as a kitchen or bathroom worktop for a pop of colour and a truly unique aesthetic.
Eco Friendly Tiles
Eco Friendly Tiles has a wide range of tiles for use in both flooring and cladding applications. In addition to this, it has a great search feature, with options to refine search results by a variety of 'eco-credentials'. They offer a range of tiles in finishes including terrazzo, natural stone, fabric and concrete-look amongst many others.
Airlite
Airlite is a paint product that aims to improve air quality by absorbing toxins. As a white, powder-based substance, you are able to mix it with water and any coloured pigment of your choice, making it the perfect choice to customise any project. Firstly, Airlite improves resident and user health and well-being by absorbing odours, repelling dust and airborne dirt, and being bacteria and mould resistant. As well as this, it also reduces air pollution by transforming greenhouse gases such as nitrogen and sulphur oxides into water-soluble salts that are then dissolved from the surface by either general air humidity (indoor applications) or rainwater (outdoor applications), reducing NO2 air pollutants by up to 80%.
Bamboo
Bamboo has long been used in construction in Asia, and whilst it has not gained traction as a principle construction material here in Europe, there are still many benefits in incorporating it into an interior. New designs and technology mean that it can be an excellent choice for worktops, panelling, flooring and furniture, with a far smaller carbon footprint than a hardwood alternative, due to it being a fast-growing form of grass. Although Shape has yet to work on a project that uses Bamboo, UK Bamboo Supplies Ltd is the largest supplier of Bamboo Panels in the UK, and if anyone would be interested to work with Bamboo, or any of the materials discussed here, please get in touch as we would love to get involved.
Accoya
Accoya is a modified timber (the wood is 'pickled' in a vinegar-like solution, transforming it from a softwood to a hardwood), that is rot-resistant, applicable to both interior and outdoor projects, and guaranteed for use both above ground and submerged in water. They use fast-growing softwood such as Radiata Pine to produce Accoya, sourcing from FSC certified suppliers, providing a viable alternative to the typically durable, but slow-growing, hardwoods that would otherwise be used. The treating process is also non-toxic, and non-environmentally damaging, and responsibly sourcing the material means that their timber acts as a carbon sequestration sink. Due to its lengthened lifespan, it needs less frequent replacement than many other timbers, and due to the company's commitment to the circular economy, they have end of life systems in place, such as upcycling and decomposition (due to the product being able to be handled the same as un-treated wood). This could be used for both structural elements (as shown), and internal cabinetry and panelling.
StoneCycling
StoneCycling upcycles waste brick and stonework from demolition sites and gives them a new lease of life as a completely new building material. Due to the wholly cyclical nature of this recycling process, it could prevent a huge amount of building waste going to landfill if adopted on a larger scale. They also promote minimising the quantity of raw materials excavated from the earth, which are becoming increasingly scarce, and often destroy landscapes and ecosystems in the process. Their range of 'food-inspired' bricks offer a sustainable alternative to traditional options, which do not compromise on style, and also offer a range of customisation options.
Ashcrete
Ashcrete is a less environmentally damaging alternative to traditional concrete, but can be used in the same applications. It utilises fly ash, a waste product from burning coal, and combines it with borate, bottom ash and a chlorine derivative. The use of chlorine is environmentally damaging, preventing Ashcrete from being a truly 'green' material, however the company is currently searching for a natural alternative to this ingredient, and as the other composites of Ashcrete are recycled from waste byproducts, this is still a better choice for an aspiring green build than typical concrete.
Hempcrete
Hempcrete is a "better-than-zero-carbon" construction material, used for insulating walls, floor slabs and roofs. It is an excellent choice for any eco-build, as well as for restoring listed or period properties, due to its ability to be formed around any shape before it sets, as it is a composite of wet-mixed hemp shiv and a lime binder. This creates a chemical-free, vapour-permeable and airtight insulative barrier, which locks away more atmospheric carbon over its lifetime than was emitted during its construction.
---
Environmentally-Friendly Packaging
Rajapack offers a veriety of easily recyclable, paper and cardboard packaging, whilst Kite offer a paper 'bubble wrap', made from 100% recycled materials. Whatever packaging you use, often it is difficult to find a suitable recycling method. Wrap is an organisation that aids companies, governments and leaders by providing information that improves resource efficiency. Read what they have to say about recycling cardboard and paper packaging here in their helpful guide. Terracycle also partners with companies to aid in recycling difficult items & waste.
More and more products are being developed in this field, for example this compostable packing from Ecovative Design made from crop waste and mushroom roots. Along with these, new innovations are coming out each year. Recently, TemperPack, a rapidly expanding new business in recyclable packaging, has begun offering alternatives to all traditional packing materials, including styrofoam, bubble wrap & other insulating materials. Plastic, on the other hand, is also getting a makeover as new technologies emerge allowing plastic-esque alternatives to be created out of biological parts and leftovers, such as Shellworks creating bioplastic from lobster shells and Studio@10 forming meat packaging out of leftovers from the processing.
---
 We hope that some of these might help you or your company reduce your carbon footprint, as we are always looking to do at Shape. With such a wealth of information available to each of us, it is our duty and responsibility to research and make environmentally-conscious decisions across all aspects of our businesses, making informed choices that are beneficial to us, our clients, and the planet.
Citations
---
<